Warranty of 3 years on functionality!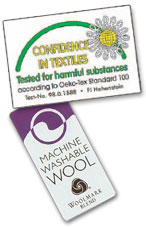 You may feel the high quality of our products! You can count on us and we give the guarantee for 3 years on functionality subject to proper handling of our products.
The yarns used are from ecologically certified production and are proved according to Öko-Tex 100.
New wool blend - Structure and properties
This yarn mix is made of 50 % pure natural wool and 50 % special DRALON Fiber. This mixture and the combination of two different types of knitting bonds forms a capillary system.
By this system the humidity is taken up efficiently and quickly transported to the surface of the blanket. The structure of the horse blanket stays dry and the horse feels dry and warm. The usual change of the blanket is not necessary.
Cotton yarn - Structure andd properties
The certified organic cotton yarn originated from controlled organic agriculture and assured an incomparable moisture regain. Whenever the horse must be dry and free of foam as soon as possible, these yarn will be the best option. To hold the horse on working temperature it's highly recommended to change to a new wool blanket after the drying process.
Care instructions:
The yarn mixture is from 50 % new wool and from 50 % special DRALON fiber. This mixture and the kind of weave used for knitting are the guarantee for functionality. To keep this up we ask you to observe the following care instructions.
Washing: 40 degr.C, conventional washing machine, do not use a fabric softener.
After contact with urine or sweat, we recommmend a prewash with a maximum of 30 degr. C.
Drying: Plain at a drying rack or machine drying with wool program.