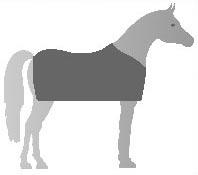 Knitted blankets for use in the stable, for thermal protection and for transport. Perfect as an under blanket for the winter.
Unique product advantages:
Available in the following variants:
Blanket and edging colours of your own choice
Blanket closed at the front, type 0701
Blanket open at the front, additionally equipped with 2 quick-release fasteners, type 0702 (available from withers 135 cm)
Blanket open at the front with Vislon Zipper, type 0703
All blankets are supplied with a tail ribbon
Sizes: from withers 85 cm to 175 cm
Other sizes and special sizes for large or small horses on request

In addition to the blankets we commend our bandages.